The Admissions Office is open from 9am-4pm for walk-in admissions support. We welcome you to come and visit our office and speak with us in person.
We will also be hosting virtual office hours via Zoom Thursdays from 10am-11am. These will be a speaker series about different aspects of the High Tech High experience that may be of interest to our prospective students and families. Below is a schedule of the office hours for the next few weeks.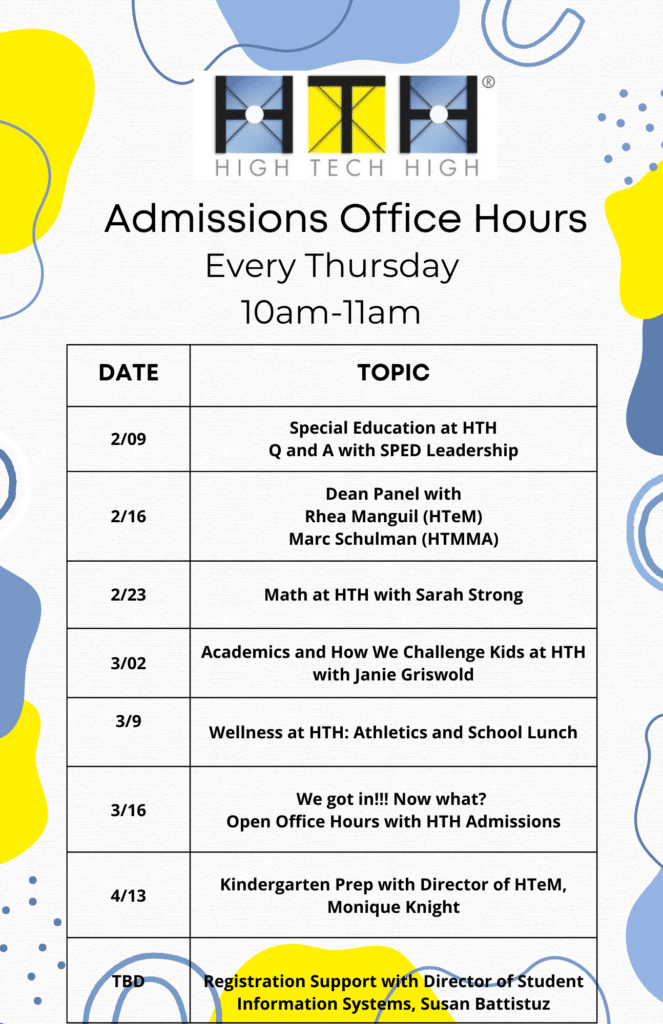 You can join meetings by clicking HERE.
Meeting ID: 881 5607 2675
Passcode: 264115
Questions can always be emailed to admissions@hightechhigh.org or via phone at 619-796-4484.
Office Location: 2861 Womble Road, San Diego, CA 92106
Office Hours: Monday & Thursday | 10AM – 11AM
Email: admissions@hightechhigh.org
Phone: 619-796-4484
How to Prepare for Middle School
Welcome Families of Multilingual Learners
HTH Chief Learning Officer
Athletics, Wellness and School Lunch at HTH