Frequently Asked Questions
I currently live outside of CA but will be moving to San Diego before the school year begins. However, I don't have a CA address yet. What should I do?
The SchoolMint system only accepts CA addresses when submitting an application. If you don't yet know where you will live, you may consider using an address of a local friend or relative and updating it if your child is offered admission. Otherwise, you would be ineligible to apply.
Who can apply to High Tech High schools?
All CA residents can apply to High Tech High schools. Applicants outside of California are not eligible to apply.
What is the criteria for admission to High Tech High?
Applicants will need a San Diego County address to participate in our zip code lottery and must have successfully completed the previous grade. They must also submit their application during our admissions period which typically begins in October and ends at the beginning of February. You may visit our website for important dates and additional information. There are two options to to submit your applications: online or paper.
Please mail paper applications to : 2861 Womble Road San Diego, CA 92106
High Tech High does not require mandatory parent volunteer hours as a criterion for admission.
High Tech High does not discriminate against a pupil on the basis of disability, gender, gender identity, gender expression, nationality, race or ethnicity, religion, sexual orientation, or any other characteristic that is contained in the definition of hate crimes set forth in Section 422.55 of the Penal Code, including immigration status, equal rights, and opportunities in the educational institutions of the state.
Is it possible to visit an HTH school to see if I am interested in my child attending?
We do offer admissions tours led by current HTH students and introduce prospective families to the student experience of Project Based Learning at High Tech High. Please note that elementary school tours are for parents ONLY.
To learn more about HTH schools we encourage prospective families to attend one of the informational admissions meetings where you will have the opportunity to learn more about HTH, meet school staff and current students, and ask questions.
Please note: Tours are only offered during our admissions period which is why families are strongly encouraged to attend. Tours will not be provided once the admissions period closes.
My child was admitted, what are the steps I need to follow to secure his or her space?
Initial admissions decisions are conditional. In order to reserve the position prior to registration, admitted applicants must take further action. You will need to login here and accept your space within 72 hours after the offer has been sent in order to reserve your space. Applicants who do not accept by the deadline will forfeit their admission.
Can I apply to more than one HTH Campus?
Applicants may only complete ONE application per student. The application allows applicants to rank the campuses by preference. Your application will only be considered for the lottery pool of your campus of preference (first choice). However, you will be considered for your second choice campus if and only if the waiting pool for your second choice campus has been exhausted.
Do you accept international students?
HTH Admissions Policy allows acceptance of students who have a J-1 visa issued by an exchange program with which their family has entered into an agreement. HTH Admissions Policy accepts students only from a program that is listed on the California Attorney General's Registry of International Student Exchange Visitor Placement Organizations (ISEVPO).
Please note HTH is not responsible for coordinating travel or finding a host family. In addition, HTH does not award diplomas to international exchange students.
For more information, contact HTH Admissions at admissions@hightechhigh.org or (619) 796-4484.
How many spaces do you have available?
The best years to apply to an HTH school are grades Kindergarten, 6th and 9th.
All other grades are non-transitional years, which means that there will be VERY LIMITED SPACES (if any) available. We will not know how many spaces we will have available until late in the school year or even the fall, but if there are any spaces available please keep in mind that there will be extremely few openings.
What are my chances of getting admitted?
The chance of being selected in the lottery vary greatly by the grade and school to which one is applying. High Tech High uses a computerized lottery that chooses students randomly but factors in the student's zip code. Because we do not know how many students at each particular grade will apply from each zip code for each year, it is impossible to predict odds of a particular applicant getting in. We typically receive about four times as many applications as we have available spots.
If you have applied for a grade other than Kindergarten, 6th or 9th, there will be VERY LIMITED SPACES (if any) available. We will not know how many spaces we will have available possibly until mid-June, but if there are any spaces available please keep in mind that there will be extremely few openings.
If I previously applied for admission at High Tech High, but my child was not admitted, is it necessary to submit an entirely new application this year?
Yes. If you have applied in the past, but your child was not accepted to the school or your child did get accepted but does not currently attend an HTH school, you must submit a new application. The waiting pool is only valid for one school year.
If my child were to attend an HTH middle school would they also be qualified for an HTH high school? Would I need to re-enter my child in the lottery for high school?
We do require currently enrolled HTH students in the 5th and 8th grade to complete a re-enrollment form, but once they complete it, he or she is guaranteed a space in one of the middle or high schools (within the same campus).
My child was admitted to one of the schools, but I would prefer them to attend another HTH school, can they transfer?
Transfers are not permitted between HTH schools in the first year of enrollment and then, only in extenuating circumstances. Please apply for the campus you wish to attend. If you wish to contact HTH about a transfer visit this page. There you may submit a written request to transfer schools outlining the reason for the change.
I have heard it is very difficult to get into an HTH school. When is the best time to apply to an HTH school?
It is a common misconception that HTH schools are very difficult to get into. In fact, many many families apply and DO get in. The odds of admission depend greatly on when a family applies.
The best grades to apply are kindergarten, 6th and 9th. Those are the only grades in which we admit a large number of applicants. For all other grades, we adit very few (if any) students. We encourage families to apply for kindergarten, 6th and 9th grades whenever possible as this will increase the chances of admission.
The admissions cycle goes begins in October and ends the first week of February, each year. If you are interested in 6th grade for your child, for example, you should apply while your child is in the 5th grade. Applications are only accepted for the following school year. The applications are not accepted on a first come first served basis- anyone who applies during the admissions cycle will be entered into the lottery for admission regardless of when they applied.
If you decline your offer are you penalized in the admissions process later on?
No, you will not be penalized in the future for previously declining an admissions offer from one of our HTH schools.
What should I do if I have contacted the admissions office and I have not heard back?
Due to the high volume of emails and phone calls we receive, please understand a delay in response. We appreciate your interest in High Tech High schools!
Given HTH does not offer AP courses, how is it that HTH seniors are competitive for admissions to University of California schools and other competitive universities?
Colleges evaluate applicants based on the course offerings and the context of the high school which the student attends. Admission offices understand that rigor is demonstrated in various different ways and curriculum rigor will differ from high school to high school. An applicant is assessed within that context of the rigor that is available to them at their high school. For example, honors options within the HTH schools demonstrate the highest level of academic rigor. Thus, HTH students who want to be competitive for highly selective institutions will opt into honors options for a majority of their 11th and 12th grade courses.
Applying for Kindergarten
Does HTH offer Transitional Kindergarten?
HTH elementary schools do not offer TK as participation in Transitional Kindergarten (TK) is optional for charter schools. We will only accept those Kindergarten applicants who are 5 years old on or before September 1st. We do not make exceptions to this rule.
How old does my child have to be to enter kindergarten?
California law requires a child must be 5 years old on or before September 1st (EC Section 48000[a]). We do not make exceptions to this rule.
In addition, California law requires a child to be six years old on or before September 1 to be legally eligible for first grade (EC Section 48010).
I submitted an application for the wrong grade. What should I do?
Before the lottery: You can login to your account and edit your application up until the due date for all applications. Once the admissions period ends, you will need to contact the admissions office (email: admissions@hightechhigh.org) to request a grade change. The Admissions Office can assist with grade changes up until the day before the lottery.
After the lottery: Once the lottery has taken place we will no longer edit applications. If you are admitted into the incorrect grade your child will be removed from that grade and placed into our waiting pool for the correct grade.*
*Please note that children must continue onto the correct grade and must have successfully completed the previous grade.
I've already submitted an application but need to change some information on it. Can I still edit?
Yes, you will be able to edit your application up until the due date for all applications. After the due date you will need to contact the Admissions Office (admissions@hightechhigh.org) so that they can assist you with editing.
Please DO NOT submit another application. ALL DUPLICATE APPLICATIONS WILL BE REMOVED.
How do I find out if my child was accepted?
Due to the thousands of applications we receive, High Tech High does not have the capacity to bring applicants into a room to observe the lottery process. Results of the HTH admissions lottery will be available in your School Mint account and posted to this website once the lottery has concluded.
We notify via email/text message that the lottery results are available. Then, applicants will need to login to their SchoolMint accounts and see their results in early March. In order to secure his or her seat, admitted students need to log in to the admissions account here and complete additional steps before the deadline.
How can I edit my information on my SchoolMint profile?
If you would like to edit any of your information on your SchoolMint profile, you must contact SchoolMint directly. We are not able to modify any of your information in your SchoolMint account.
How do I know that you received the application I submitted?
Online applications: If you apply online an email confirmation will be sent automatically to the email address(es) you provided. You can also log into your account and view your application(s).
Paper applications: An email or text message will be sent to the parent/guardian who has signed the application with a link to set a password and access this account. Please make sure writing is legible for the complete application.
Can you give me more information about the HTH waiting pool process?
Students who apply and are not admitted will be automatically placed in the waiting pool. The waiting pool is in accordance with the admissions policies delineated in HTH's charter. As such, the waiting pool is made up of rank lists within each zip code cluster of attendance regions. If interested, you may request your child's rank within your zip code cluster.
Seats are filled on a rolling basis whenever a space opens up at one of our schools. If your student is selected from the waiting pool, we will contact the family via email and/or text.
Please note: The waiting pool is only valid for the academic year in which you've applied. If you are not admitted, you will need to apply again for the following school year.
What should I do if I need technical support with School Mint?
For School Mint technical assistance please visit familysupportschoolmint.net. SchoolMint has a dedicated family self-service site where families will find FAQs and a variety of articles addressing the most requested topics related to account management, applications, registration, re-enrollment, etc.
Can you tell us more about the lottery?
HTH utilizes a zip-code based lottery designed to yield a student population that mirrors the greater community in which our schools are located. We are not designed to be neighborhood schools, but instead we value diversity, inclusion and representation in our schools and our lottery is designed to foster that. As such, we use US Census data to accept a certain percentage of students from each zip code in the area. The resulting student demographics should mimic the school aged population of our greater San Diego community. We provide a statistical advantage to low income students and we have a preference for siblings of currently enrolled students.
The High Tech High public lottery will be held via Zoom on March 1st, 2024 at 10am. Results will not be shared during the public lottery. Applicants will be notified of the results on March 15th, 2024.
Do you offer a sibling preference?
Siblings of currently enrolled HTH students given a preference in admission. They must be applying to the same village as their sibling. The sibling preference does not guarantee admission as admissions is also based on zip code.
Are twins guaranteed admission?
Due to the large amount of applications we receive from twins and other multiples, we do not offer guaranteed admission for both twins if one is admitted in the lottery. Twins are considered the same as other siblings and given preference in the waiting pool if one is admitted and the other is not.
If one of my children accepts an offer of admission and the other is placed in the waiting pool, will my child in the waiting pool receive sibling preference?
If a child in the waiting pool has a sibling that was recently offered admission, the child in the waiting pool will receive a sibling preference. Before the child can receive the sibling preference, their siblings registration must be successfully completed.
Please note: Having the sibling preference does not guarantee admission.
Why does the HTH application ask whether my child is currently eligible to receive Free or Reduced Lunch?
Students who are currently participating in the Federal Free and Reduced Lunch Program are eligible to receive a statistical advantage in the admissions lottery.The purpose of this is to ensure an equal representation of students at High Tech High from across all income levels. A letter from the school or district, as proof of participation, is necessary to receive this statistical advantage.
Applicants must submit this letter via email to: admissions@hightechhigh.org
Please note: Being eligible for the Federal Free or Reduced Lunch Program does not guarantee admission.
How do I know if I qualify for the Free or Reduced Lunch program?
Below are the USDA Eligibility Guidelines. Please use them to determine if your family qualifies for free or reduced lunch. Once you determine eligibility, you will need to apply through your child's current school/district and provide us with that letter.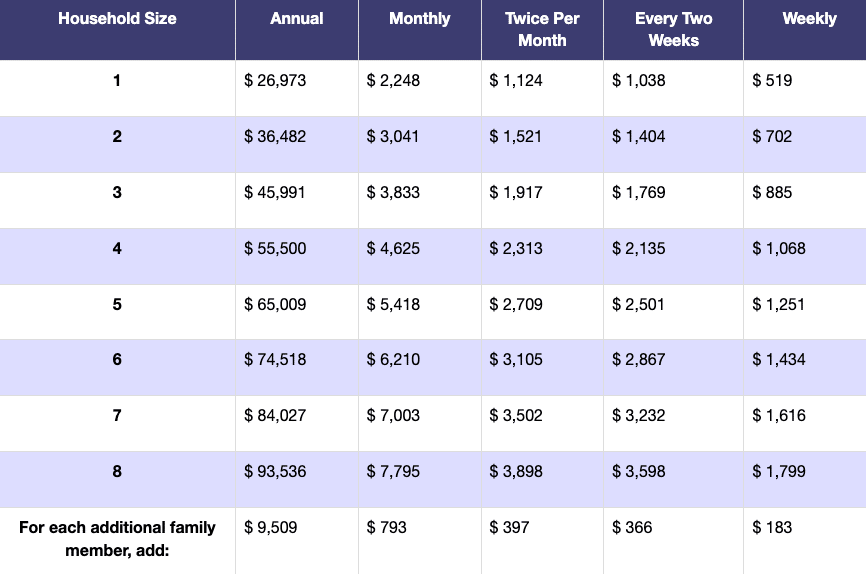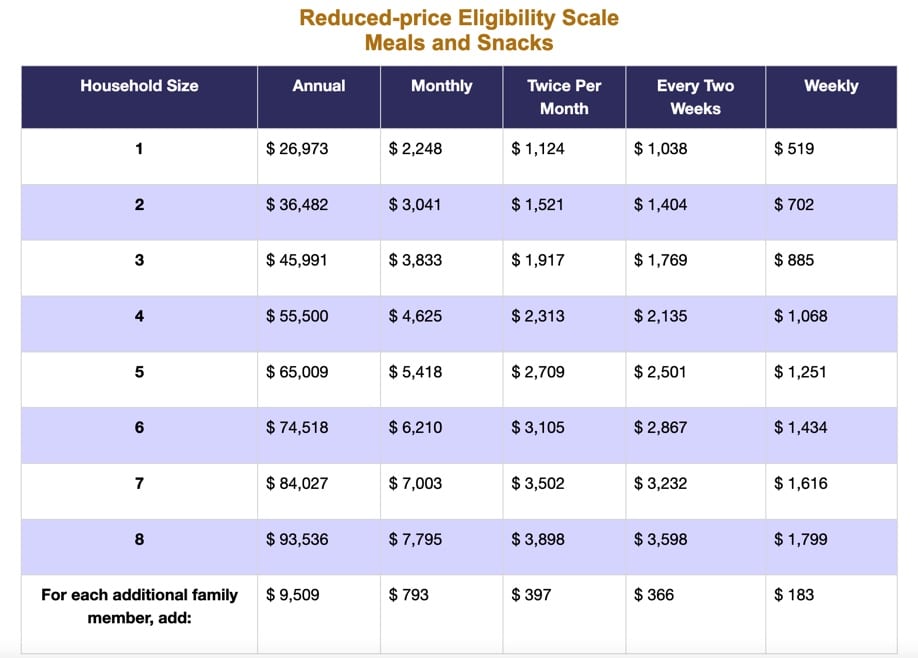 What is the difference between the various HTH schools?
We like to say that HTH schools are like siblings from the same family. Our schools are all based on the same foundation and design principles. The school leaders (Directors) meet and collaborate frequently as do teachers from different schools across campuses. There are significantly more similarities than differences. The high schools all have the same core course offerings and the same graduation requirements.
Does HTH provide transportation for students?
HTH does not provide transportation. Students who apply and are eligible for free or reduced lunch are provided with a free bus pass to use public transportation to and from school. Many families carpool as well.
What are the schools' hours?
Each school has different hours and they can change slightly each school year. You can check each school's website for their hours for the current year.
Do you provide before and after care?
We do provide before and after care in grades K-8. There is a cost to the program which is on a sliding scale and it is available to all families who need it. Once your child is admitted, you can apply to indicate your interest in before and after care. You can find more information on each school's website.
Can you give me an example of an exploratory course at your school?
Some examples are Science, Dance/Movement, Active Education (PE), Engineering, Makers Space, Visual Art, Drama, and Multimedia.
What language courses do you offer?
We do not offer any languages as required classes until high school. For high schoolers, we offer Spanish.
What is the High Tech High approach to supporting students with special needs or IEPs?
High Tech High welcomes applications from students with special needs, IEPs, and 504 plans. We strive to include students in the general education setting to the greatest extent possible, while also offering a continuum of services across the system. For students entering with an IEP, we will match that student's IEP services and program to comparable services and programs available throughout our network of schools, including, but not limited to, push in support/services, pull out services, and small group specialized instruction classes.